Details
The Corn Mill Bunkhouse has accommodation for up to 14 people, in singles or groups. It has a large kitchen and open-plan sitting room on the first floor, in which the old grinding wheel now serves as a unique coffee table. There is level access to the first floor at the rear of the building, with an easy going stair leading down to the ground floor, which has two bunk rooms, a disabled access toilet/wetroom and a toilet with a shower. The first bunk room has 4 bunk beds (sleeps 8) the second has 3 bunk beds (sleeps 6) and has a large patio door looking on the workings of the old mill working, and the large driving wheels which still have the original wooden cogs.
Experience crofting life in Sutherland
The Corn Mill Bunkhouse is situated on one of the 4 crofts with a total acreage of 360 hectares, which form part of the Bighouse Estates, worked by Sandy. He took them over from his father in 1975, in a family tradition of crofting which goes back several generations. There are 30 hectares of grass land and 83 hectares of forestry, with the remainder consisting of rough grazing of heather upland. Sandy also has shares on the Halladale and Havaig common grazing which is designated as a Site of Special Scientific Interest (SSSI) and a Special Area of Conservation (SAC). Sandy runs 400 North Country Cheviot ewes breeding replacement stock, while the remainder of the lambs are sold at sales during August, with 22 spring-calving cows, with the calves sold in November. All the winter keep roughage in the form of pit silage, wrapped bales and hay bales is produced on the crofts, with the cows wintered inside or on the wood chip corral.
Laser Combat and Clay Pigeon Shooting on Site
Laser combat is a unique sport for 8 year old to 80 year old for 2 teams up to 7 a side. This equipment has been imported from the USA and is very high tech with a capability of a range of over 200 metres, it is played on a man-made course with a fort at each end and plenty of cover and the object of the game is to shoot out the other team. Each player starts each game with 10 lives and 1,200 rounds of ammunition. Each game lasts up to 20 minutes and each package will have around 6 games.
Ideal for Groups, Stag and Hen and Family Celebrations
The combination of bunkhouse and activities is ideal for Stag/Hen and Birthday parties or a family outing and when linked in with a stay in the Bunkhouse can make an ideal short-stay holiday. We accept bookings for groups of 6 to 21 with a price of £25 per adult and £20 per child (under 12).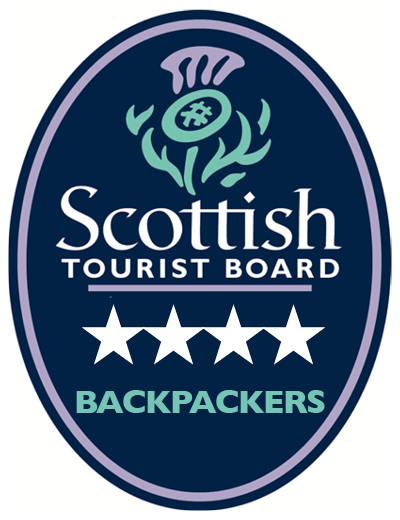 VisitScotland Backpackers Rating
Key Info
Your Hosts
Sandy and Debbie Murray welcome you to the Corn Mill Bunkhouse, affordable and comfortable hostel accommodation for individuals or groups visiting the beautiful Strathhalladale area of Sutherland, in the north-west Highlands of Scotland. Experience a unique crofting lifestyle and landscape, in our cosy bunkhouse which is perfect for families and stag and hen parties with laser combat and clay shooting on offer on site.
Address
Corn Mill Bunkhouse Achumore Strathhalladale KW13 6YTQ
Tel 01641 571219
Mob 07592 510896
---
Beds
14
Sleeps
14
Nearest public transport
Train station 10 miles